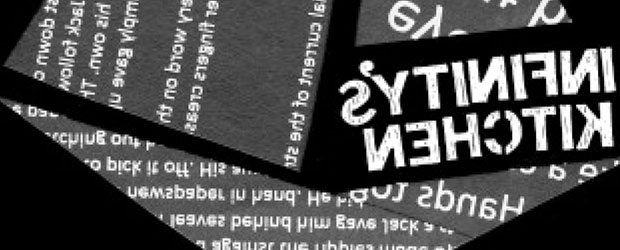 Now, the third issue of infinity's kitchen has been printed and you're in for a treat.
[box type="download"] Download Issue № 3 (PDF)[/box]
We've included a paper boat inside the printed publication. Assuming that all the folds are in all the right places, you should actually be able to float this boat, at the park or in your bathtub, and I hope you will. I hope you'll first take the opportunity to unfold the boat and read Hao Cheng's delightful story, "Paper Boats". I also hope you'll try to fold the boat yourself, because it's fun!
The story "Saved" presented an interesting creative problem to the editor and designers of this issue. For a publication that is online and in print, in an issue about objects, it seemed to fit perfectly. It is a hypertext, in that it is a nonlinear composition, but it is also a collection of objects: a receipt, a printed chat log, and a newspaper clipping. We tried to present the story in that light.
"In Absentia" is intended to look like one of those old publications that you may have held in your hand at one time, the one that is a guide to the programs on TV. Anymore, those guides have been redesigned or replaced by digital listings, but this was a story about memory and about "channel-surfing" through the memories. The story has been illustrated with the typographical conventions of those channel listings, to highlight that aspect of the story.
The objects in mind here aren't always of the paper variety. The concrete poem, "A Few Weeks of Light Principle" is one of many excellent concrete poems that have been submitted to Infinity's Kitchen since the previous issue, which was devoted to the form. In this poem, the text is "frustrated" as one would be when trying to make sense of the instructions that often accompany the furniture that comes from the store inside a box. You have to assemble it yourself. The directions don't always make perfect sense, in any language. The mind wanders.
You are invited to encounter these objects in any order you like and to make of them what you will.